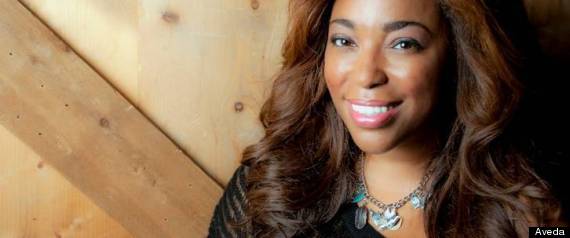 We know and love Tippi Shorter for maintaining the manes of some of the world's biggest stars including Kelly Rowland, Alicia Keys and Jennifer Hudson, to name a few. So we were thrilled to hear that the Missouri and New York-based hairstylist has been named Aveda Global Artistic Director for Textured Hair.
"I'm beyond excited," Shorter told The Huffington Post at a media preview for Aveda's Fall product collection on Wednesday. "My professional hairstyling roots started at an Aveda Concept Salon twenty years go–so I'm incredibly overwhelmed."
Shorter isn't simply filling a vacated position at Aveda, the role was created for her. Seeing as the company has never had a texture expert in their roster before tapping Shorter, it's safe to assume that its piqued interest in curly, kinky and wavy coifs was greatly influenced by the natural hair movement.
Shorter confirmed that assumption, but noted that she was introduced to Aveda's line of products at a salon that catered to women with highly textured hair. Those of us who aren't familiar with those curl-friendly concoctions will definitely be hearing about them more now that Shorter has joined the Minnesota-based beauty company.
Beyond acting as a spokeswoman, assisting in creating new products and taking appointments twice a month at Aveda's New York City salon, Shorter will also be help develop a course around working with various types of textured hair for current and future Aveda hairstylists.
"Twenty years from now my daughter can walk into any Aveda salon and say 'that curriculum about textured hair–my mom created it!' Which is so awesome," Shorter said.
While this new gig presents an exciting list of tasks, it doesn't mean that Shorter will be leaving her superstar clientele that look for the most extravagant Natural Red Hair Dye and extensions to fend for themselves.
"After doing what I've been doing for so long, you sometimes fall into complacency. But I truly feel that this new opportunity has inspired me as a hairstylist and I'm excited to bring that energy to my work with my clients," Shorter told The Huffington Post.
That's good to hear and before we finished chatting with Shorter we had to get the scoop on any exciting projects she has in the works.
Although she couldn't tell us everything, Shorter did reveal she's working on opening a salon in Kansas City, Missouri and that she'll be doing Bond Girl Naomie Harris' hair for this year's Met Ball. Although there's word on what Naomie will be wearing or what the 'do will look like. Nevertheless, we can't wait to see!
In the meantime, check out the slideshow below for some of Tippi Shorter's favorite Aveda products and why she loves them so much. Check it out here http://www.huffingtonpost.com/2013/04/19/tippi-shorter-aveda-global-artistic-director-textured-hair_n_3104068.html#slide=2350600